Schools Tennis Coaching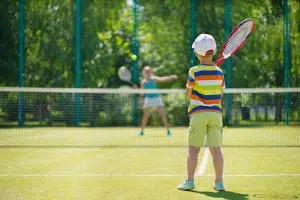 We strongly believe that all children should be given the opportunity to experience the brilliant game of tennis. We have extensive experience of working in primary and secondary schools and also private schools. We would love to offer our expert services to more schools to benefit children across North Wales and Cheshire.
Why choose us?
Expert coaching: Mike is a specialist schools tennis coach – he is an LTA level 4 Senior Club Coach and is a tutor for the primary and secondary school teacher training courses . Furthermore, Mike holds a PGCE Primary qualification and is up to date with the national curriculum and frameworks. Mike will develop physical literacy, numeracy and literacy skills in every lesson where possible, and will differentiate all lessons.
Qualifications: All coaches hold an LTA coaching qualification, valid DBS, first aid and safe guarding certificate. These will all be brought into school on the first day of any session.
No Tennis Court or large space needed: We are very used to working in small dinner halls with classes of 30+ children. We are able to improvise and work very effectively in small spaces to maximise learning.
Equipment: we can provide all equipment – appropriate size rackets and tennis balls suitable for the age of the pupils, and portable nets etc.
Links with local tennis clubs: We can offer your pupils the opportunity to participate in tennis at a local tennis club that we are linked with.
What we can offer
We can offer a variety of services to meet your school's needs
Out of school clubs – Breakfast, lunch and afterschool clubs
PPA Support / Cover
Curriculum time coaching  
Taster sessions
Staff mentoring / training 
Tennis leader courses – we can also give your pupils the opportunity to volunteer as part of their Duke of Edinburgh award.
If you are interested in this great opportunity for your school – please get in touch with Mike on 07527 908808 / mike@mikeherdtennis.co.uk